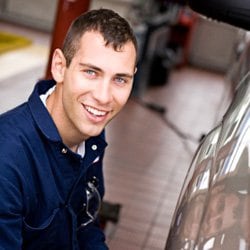 Get Your Ford Parts at Mike Jones Ford Lincoln Near Eastanolle, GA
For all our do-it-yourself types near Toccoa, Mike Jones Ford Lincoln provides an easy answer to shopping Ford Parts.
Simply order online and take delivery of all those Ford Parts, components and accessories meeting with your winter projects. And with an entire Ford Parts' inventory to select from, there's never that need to browse elsewhere near Commerce.
Assisting You With Ford Parts Ordering at Mike Jones Ford Lincoln
At Mike Jones Ford Lincoln, we marvel at those clients who perform seasonal oil changes, brake parts' replacement and tire rotations at home garages. And in this, we're more than happy to assist your mechanical endeavoring.
That's why we've made the process of ordering Ford Parts easy to navigate. With a simple online form to complete, all that's needed are the following details:
Contact information.
Vehicle details as to year, make, model and VIN (Vehicle Identification Number).
Ford Parts' numbers defining those needed Ford OEM (Original Equipment Manufacturer) components to finish off your engine tune-up.
Once the form is submitted, our Ford Parts' center professionals will reach out with next steps. You'll be fully apprised of availability in stock or those specific Ford Parts in-transit to our local Lavonia area campus.
Our Parts Professionals Are Ready to Field Questions
Once delivery has been taken of those desired Ford Parts, you may ask our parts professionals for advice or methods used for specific part and component installation. With a collective Ford and Lincoln automotive background, we know where everything fits and why.
So, if you find yourself stumped with installation questions, avail yourself of Mike Jones Ford Lincoln expertise for all Ford, Lincoln winter projects.
Mike Jones Ford Lincoln - Your Ford Parts Emporium Near Toccoa
Contact us today for more information on Ford Parts ordering and installation. We look forward to assisting.